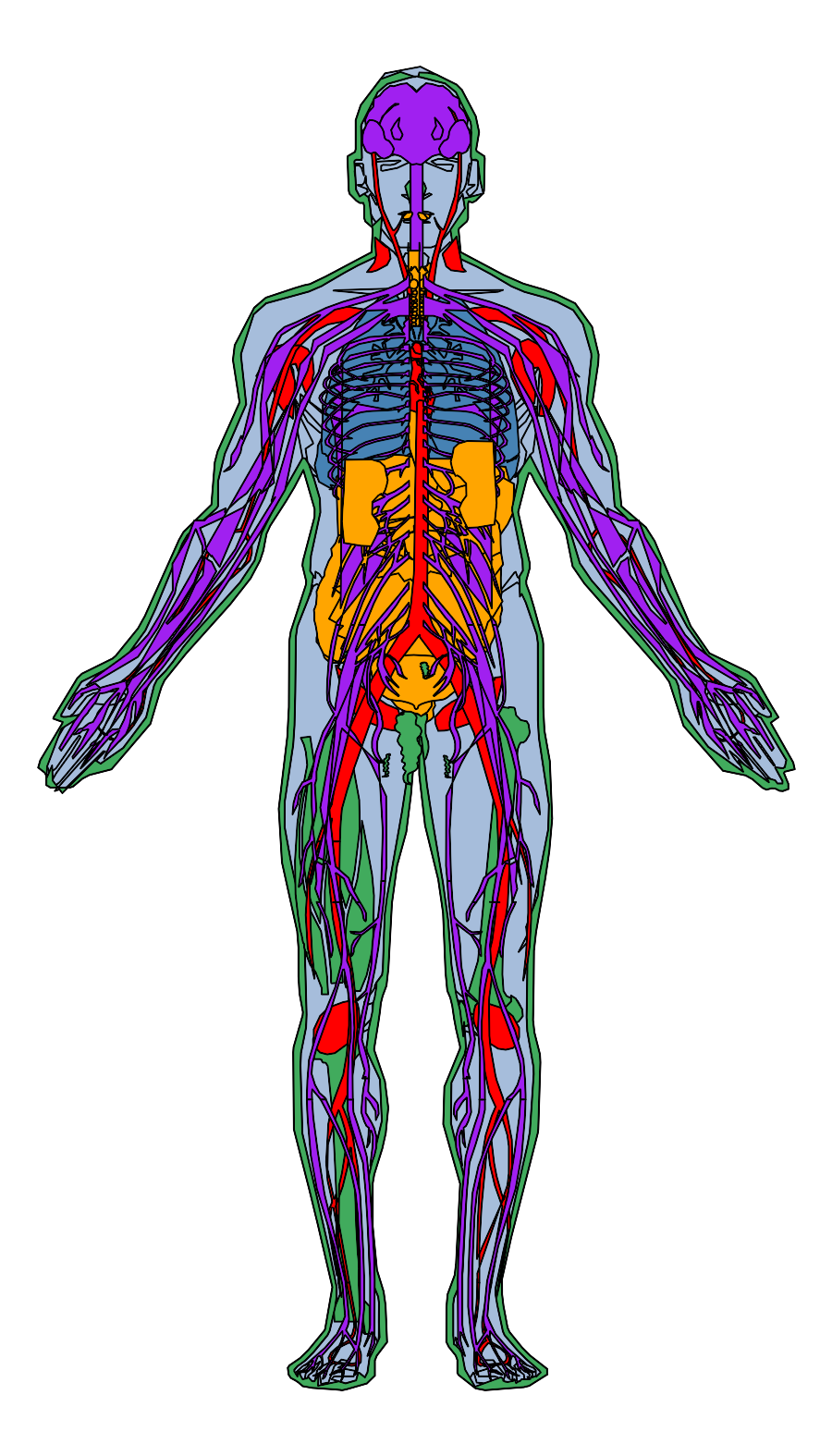 gganatogram
https://github.com/jespermaag/gganatogram
Create anatogram images for different organisms.
For now only human male is available.
. The idea for this package came to me after seeing a twitter post for ggseg. I thougt something similar would be good for whole organisms. Since I could not find anything similar, I deided to give creating my first R package a go.
This package uses the tissue coordinates from the figure in ArrayExpress Expression Atlas.
https://www.ebi.ac.uk/gxa/home
https://github.com/ebi-gene-expression-group/anatomogram

Generation of package
Download all svg
To create the package, I first had to retrive the coordinates of all tissues from the Expression Atlas. The anatogram package was downloaded using the following command.
npm install --save anatomogram

Extract coordinates from svg
I used python to extract the coordinates, names, and transformations for each tissue in the homo_sapiens.mal.svg file. This code takes the svg and writes the name, coordinates, and transformation to a file, which is then processed in R.
Process the coordinates in R, and create a package
I created a function to extract the coordinates into a data frame and transformed the data. Some manual editing was required to get the right coordinates, and remove some tissues that did not work
Finally, I processed the python output using the extractCoords function.
The resulting list was then used as the base for the gganatogram package. The package can be installed from github using the instructions below.
Install
Install from github using devtools.
Usage
This package requires ggplot2 and ggpolypath
In order to use the function gganatogram, you need to have a data frame with organ, colour, and value if you want to.
Using the function gganatogram with the filling the organs based on colour.
We can use the ggplot themes and functions to adjust the plots
We can also plot all tissues available using hgMale_key, which is an available object
To skip the outline of the graph, use outline=F
We can fill the tissues based on the values given to each organ
We can also use facet_wrap to compare groups.
First create add two data frames together with different values and the conditions in the type column